BWM 8426 WM – Torino Oak
Dimensions: 4 ft x 8 ft x 0.7 mm
NOTE:
Product photography and samples are to be used as a general guide. Color as well as percentage, size and shape of markings will vary. Sizes are nominal, not actual.
Natural Veneer Ply - Decorative
*Please note that image shows Natural Oak Ply -mix matched without varnish.​
Veneer Plywood measures 4'x 8' x 3.6mm
The Mismatched jointing technique is where the veneers are deliberately positioned at random and out of sequence. This creates a variation in colour and grain over those next to them.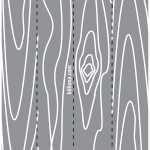 ---
Do note that colour of veneer shown are to be taken as a gauge as it may vary due to different computer monitor colour settings.
Our fancy veneers are produced with the intent that it will only need to be clear finished.  Staining the veneers can cause a loss of the grain and/or pattern effect.
Variation in colour & grain appearance can be expected from sheet to sheet and batch to batch.
As part of natural wood characteristics, exposure to direct sunlight can produce colour change. Any slight change in colour over time does not indicate a product defect